Way Down Yonder
Authentic Appalachian Music!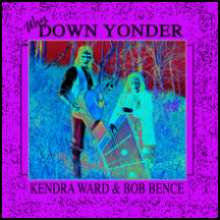 Way Down Yonder
Price: $15
20 Appalachian classics featuring hammered and mountain dulcimers with guitar, bass, cello and even tuba!
Way Down Yonder has something for everyone! It features a spirited collection of traditional American old-time music, bluegrass classics, gospel favorites, beautiful waltzes and even a few original tunes!
There is just about a full hour of music here, and Way Down Yonder really is the perfect recording to start with if you are just getting into the music of Kendra Ward and Bob Bence!
Click the green arrow after the title of each track to play the tune!
Under The Double Eagle

... (2:26)

Old Spinning Wheel

... (2:51)

Old Rugged Cross

... (3:30)

Chicken Reel

... (2:38)

Wings of a Dove

... (3:40)

Birdie

... (2:36)

Lillie's Lullaby

... (2:45)

Foggy Mountain Breakdown

... (2:21)

Duelling Banjos

... (2:49)

Beautiful Bluebird

... (2:40)

Raggedy Ann/Blackberry Blossom

... (4:18)

The Wreck of the Old '97

... (2:52)

The Two of Us Waltz

... (2:41)

Down Yonder

... (2:47)

Liberty

... (2:48)

Redwing

... (3:13)

Flop-earred Mule

... (2:37)

Wildwood Flower

... (2:27)

Goin' Down Upcreek

... (2:13)

Orange Blossom Special

... (4:59)