Rides Again!
Old-Time Music featuring Hammered Dulcimer, Fiddle and Guitar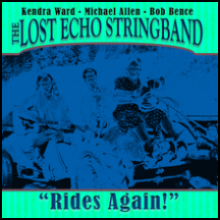 Rides Again!
Price: $15
The LESB are back! Kendra Ward, Michael Allen and Bob Bence deliver an hour of awesome old-time music!
And it only took 20 years! Rides Again! is the stunning new release from Kendra Ward, Bob Bence and Michael Allen, aka Rides Again!
The 14 tracks on this CD are pure old-time music, played by three masters of the genre. Kendra's playing has a natural soul, an intuitive arc. She knows where to go with her instrument, when to push harder and when to back off. When dueting with Michael on these cuts, she strikes an impressive balance, complementing his solid melodic style with her own more improvisational approach. Between the two of them, there are a lot of notes, and not one is misplaced in the whole bunch!
With all of that going on, Bob somehow finds some room to lay down some truly tasty guitar parts. He seems to have a knack for always being in the right place at the right time, providing a fascinating subtext to the two lead players without ever getting in their way!
Nothing sounds forced on Rides Again! It is simply great music, played by a trio of great musicians, with respect for the tunes and the style! If you are already a fan of old-time music this disc is a no-brainer! Get it today! If you are new to old-time, this one will make you a fan!
Click the green arrow after the title of each track to play the tune!
Over the Waterfall

... (4:30)

Washington's March

... (2:54)

Sara Armstrong #33

... (2:30)

Rosin The Beau

... (3:41)

West Fork Gals/Susananna Gals

... (5:48)

Puncheon Floor/Temperance Reel

... (4:28)

Bonaparte Crossing the Rhine

... (3:52)

Hangman's Reel

... (4:25)

Folding Down the Sheets

... (2:37)

Shoes and Stockings/Magpie

... (4:40)

Nixon's Farewell

... (4:07)

Southwind

... (3:09)

Arkansas Traveller/Whiskey Before Breakfast

... (5:16)

Cluck Old Hen

... (3:34)