Dulcimer Country
Traditional Music performed on Hammered Dulcimer and Guitar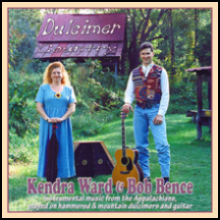 Dulcimer Country
Price: $15
A toe-tappin' treasure trove of up-beat traditional music featuring hammered dulcimer and guitar!
Are you ready for a toe-tappin' good time? Then come on down to Dulcimer Country!
Released in 1995, Dulcimer Country is Kendra and Bob's most upbeat release!
These 14 tracks are a pleasing mixture of classics, standards and originals, all selected to evoke the down-home atmosphere of the artist's Appalachian home.
You will love Kendra's fiery dulcimer playing, and Bob's guitar never sounded better! Dulcimer Country! is sure to keep your toes tappin', and your heart yearning for an old-fashioned good time!
Click the green arrow after the title of each track to play the tune!
Cottoneyed Joe/Baldheaded End of the Broom

... (4:21)

Worley's Waltz

... (2:44)

New River Train

... (3:20)

Star of Texas

... (2:57)

Listen to the Mockingbird

... (3:07)

Roses to Rhubarb

... (3:13)

Rocky Top

... (2:45)

Dulcimer Country

... (2:20)

Chinese Breakdown

... (3:23)

Mockingbird Hill

... (3:24)

Cripple Creek/Greasy Strings

... (2:27)

Maggie

... (3:14)

Devil's Dream

... (2:48)

Tennessee Waltz

... (4:34)