Playing With Arpeggios
Play With Creativity and Confidence!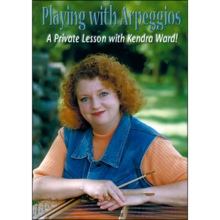 Playing With Arpeggios
Price: $20
Learn to add chords and embellishments to your playing with this electrifying DVD lesson!
In this 55-minute DVD, Kendra helps you take your dulcimer playing to electrifying new heights! You'll learn to freely embellish any tune in any style by using arpeggios!
Playing With Arpeggios is easy! Just follow these simple step-by -step lessons:
Defining and Playing Arpeggios

Building Harmonies

Creating Interesting Endings

Developing Unique Fill-In's

Embellishing with "Whizzle Sticks"

Using Your Entire Instrument
All of these topics have been carefully selected to give you the information you need to develop your own unique style! When you master Playing With Arpeggios you'll have the knowledge and confidence to individualize your playing, and create your own arrangements