Mountain Dulcimer Basics
Become a Traditional Dulcimer Master!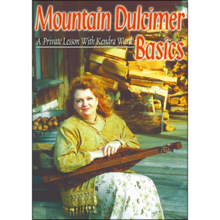 Mountain Dulcimer Basics
Price: $20
Learn everything you need to play and sing with your mountain dulcimer!
Kendra Ward has long been widely regarded as one of the nation's finest dulcimer players and teachers. Her style traces its roots back through her family for over a century, and Kendra is one of a handful of "traditional style" players remaining in the world.
Following in the footsteps of her father and grandmother, she learned directly from some of the original masters. In this video, Kendra clearly shows you the fundamentals you need to become an accomplished player!
Learning to play the mountain dulcimer is easy as you follow these simple step-by -step lessons:
Defining Mountain Dulcimer Basics

Getting In Tune

Playing With A Noter & Pick

Learning Melodies

Fingering Easy Chords
All of these topics have been carefully selected to give you the information you need to start playing dulcimer in the traditional style! Mountain Dulcimer Basics is the only beginning lesson you'll ever need!