Hammered Dulcimer Basics
Learn the Hammered Dulcimer Fast!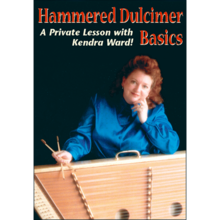 Hammered Dulcimer Basics
Price: $20
All the lessons you need to quickly advance from a novice to an accomplished player!
If you have ever wanted to learn to play the hammered dulcimer, this DVD is for you! In this 60-minute video lesson, Kendra clearly teaches you the fundamentals you need to get started the right way! You'llbecome an accomplished dulcimer player in no time!
Learning the dulcimer is easy as you follow these simple step-by -step lessons:
Playing Scales

Locating Notes That Are The Same

Learning Melodies

Adding Simple Harmony

Using "Guitar" Chord Harmony
All of these topics have been carefully selected to give you the information you need to start playing in whatever style you like! Hammered Dulcimer Basics is the only beginning lesson you'll ever need!