We Wish You A Merry Christmas
30 Christmas Favorites for Hammered Dulcimer!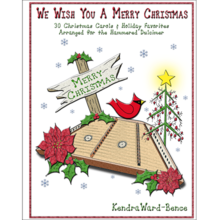 We Wish You A Merry Christmas
Price: $15
30 seasonal favorites arranged for hammered dulcimer. Perfect for all skill levels!
We Wish You A Merry Christmas is the first book of Christmas music specifically for the hammered dulcimer! This book features 30 seasonal favorites completley arranged with chords and lyrics!
Thanks to the unique way Kendra constructed these arrangements, these songs can be played by all levels of players, and will "grow" with a player as their skill increases! Beginning players can simply the top line of the musical notation or the tablature. Intermediate level players can add the second line for an arrangement featuring lots of interesting harmony, and advanced players can play all the music for a fully embellished arrangement that will challenge their skills!
30 great arrangements are included! Learn Angels We Have Heard on High, Away in a Manger, The First Noél, Jingle Bells, Silent Night, What Child is This?, We Wish You A Merry Christmas, and many more.
All tunes include complete lyrics and chords, making this book perfect for groups looking to play Christmas songs together!