Count Your Blessings
30 More Hymns for Hammered Dulcimer!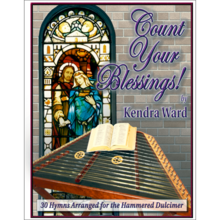 Count Your Blessings
Price: $18
Kendra's latest hammered dulcimer songbook features 30 more old-time gospel favorites!
Introducing Count Your Blessings, Kendra's latest book of traditional hymns arranged for the hammered dulcimer! This new release features 30 complete arrangements of hymns and gospel favorites, all including chords and lyrics!
You'll learn A Might Fortress is Our God, Be Thou My Vision, Happy Land, Lily of the Valley, Nearer My God to Thee, The Old Rugged Cross and 24 more!
All arrangements are written in standard musical notation and in Kendra's unique tablature system that actually helps new players learn to read msuic!
Thanks to the unique way Kendra constructed these arrangements, these songs can be played by all levels of players, and will "grow" with a player as their skills increase!